Help revive Poplat!

Poplat is Serbian village in Herzegovina, 3km south of Stolac.
Up to 1992 it had several hundreds of inhabitants - only to be burned to the ground during Bosnian civil war.

Even today Poplat whould be an village of ghosts if it wasn't for several (5-6) Serbs, all very elderly people who came back to their proper. The only exception is family of Duško Mihić, who came back to Poplat with hs wifeand their 3 children.
| | |
| --- | --- |
| | |
| Miloš, Milica and Milana Mihić | A devastated house in Poplat |
This family is the reason of our appeal to you: those 3 children cannot go to school to nearby Stolac with Croat and Bosniak children. Little Croats go to school in the morning, little Bosniak Moslems in the afternoon, while there are no Serbian children in the school whatsoever. That is why Miloš, Milica and Milana have to go to school in Ljubinje, Rep. of Srpska, 20 km further down the road. Since Mihić famliy cannot afford everyday travel to Ljubinje, they were forced to rent a humble appartment in Ljubinje, where kids and their mother are staying over the week. Their father lives on his own in Poplkat during the week, and the only time the family gets together are weekends and holidays...
Bregava waterfalls in Stolac
Poplat church. Next to it - ruined school.

Shall we say describe the life Serbs is Herzegovina in more details? Even Croats and Moslems, whoe make almost entire population of Stolac municipality nowadays, are having it hard. Can you imagine how hard it is for those few Serbs still living there, who are receiving no help from Rep. of Srpska, since they are not on it's territiory (though the Bosnian entity border line is only 2km away). On the other hand, Federation of Bosnia and Herzegovina is doing very poor job in help their own Bosnian people, let Serbs alone.
Modern day rural life is by no means easy for anyone in Eastern Europe. Harsh, non-fertile Herzegovina soil only adds up to the trouble. Then there are traces of war still visible everywhere you look around. I hope it helps you understand how simple and luxurious our everyday life is, compared to the life of Serbs in Poplat.
Let me tell you few more details: there is an old rifle behind the door, since you just never know who the next visitor is going to be. Over the day, one has to do hard work in the wineyards and orchards (which have recently been devastated by sudden frost in April), and to take care of livestock. Best pieces of land are farmed by Croats from neighbouring villages - though the land completely owned by Serbs (noone dares to complain, the rule of force is much stronger than the rule of law). If there is any spare time left after farming the land, Serbs help rebuild Poplat church, which has been robbed and and burned during the war - they paint church walls, rebuild the fences, and put tumbstones in Poplat cemetary back to place (since they were ruined by Croats during the war). Of course, Serbian orthodox Church is not paying for any work being done by our countrymen, but the Orthodox priest, who comes by very rarely, still expects large amount of money for baptizing Serbian children.
Farming machines are being lend from the neighbouring Croats and Moslems (though enemies at war, good people help each other regardless of their religion, since only people of Herzegovina themselves know what hardships they are living every day, and they have learned that the neighbour is more important than the politician they see on TV).
Finally, the weekend is there, and the whole family is reunited, but there is no time for the joy, they all have to wrok very hard to help their father farm the land.
A while ago, Poplat had more than hundred of children in it's school (need we say that school has also been burned down to the ground?). Today there are only 3 (three) children living in Poplat, and those 3 are there only during the weekend. For Republic of Srpska they do not exist. Serbian orthodox Church seems to have forgotten them. If we don't do something very soon, last traces of Serbs living in this region will dissappear - for good. And once ago Serbs had strrong national community in Stolac, and they were wealthy and well respected part of the society.
Our idea is to start providing help - in small steps, bit by bit. The first step would be providing school transport for Mihić children, to their school in Ljubinje, so the family could live together during the whole week.
That is why we're appealing for your financial help - whenever you can, as much as you can. Every Euro, dollar and dinar donated will be listed and shown on Small Serbian Shop. You will not get a thank you card from Serbian Church, like our elders did, but you will get many many thanks from a hubmle, but hard working and honest family.
And if we manage to make their lives, surrounded by burned homes a bit more easy, maybe there will be another Serbian family who will consider going back to their proper in Poplat. Maybe we will see Serbian kids again play with lambs on the slopes of Herzegovina. Maybe we'll manage to see more Serbian children being baptized in Poplat and Stolac churches. But none of this will happen out of the blue - first of all, we Serbs help to help our own kind!
How to send your donation
- by ordering special donation items in Small Serbian Shop
- Your donation can be combined with ordering of other items from Serbian Shop, but it's not a must. You can welcome to make a standalone donation order.

- Such donation order can be paid by
o PayPal (PayPal will charge commision on us)
o Credit Card (2Checkout commision will charge us 6% commision)
o Bank transfer (in this case you'll have to pay for wire costs yourself)
o Western Union (in this case you'll have to pay for wire costs yourself)
All your donations will be paid to Mihić familz bank account, once per month. On the other hand, we will keep a page on Small Serbian Shop where we will list all received donations.
Many thanks to all of you who will help spread the word about his initiative. IF you ever happen to pass nearby Stolac, please make a detour to Poplat, and knock on Mihić family door. You'll see some good Serbian hosiplatily, and of course, taste some strong homemade rakia, and hopefully you will see the fruits of the seed you helped plant yourself.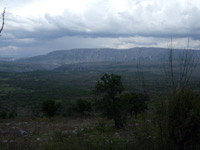 Poplat village - photo taken from the south
One more thing - we're aware that many of our countrymen were crooked by 'donation initiatives'. That's why we'll insist on maintaing you well informed of the progress of our initiative, so you can rest assured that your money has been spent for the good deed.
I hope that already in ealry September we wiill be able to post a photo of Miloš, Milica nad Milana next bz the school bus, taking them to Ljubinje each morning.
Many thanks from Small Serbian Shop and Duško Mihić family.